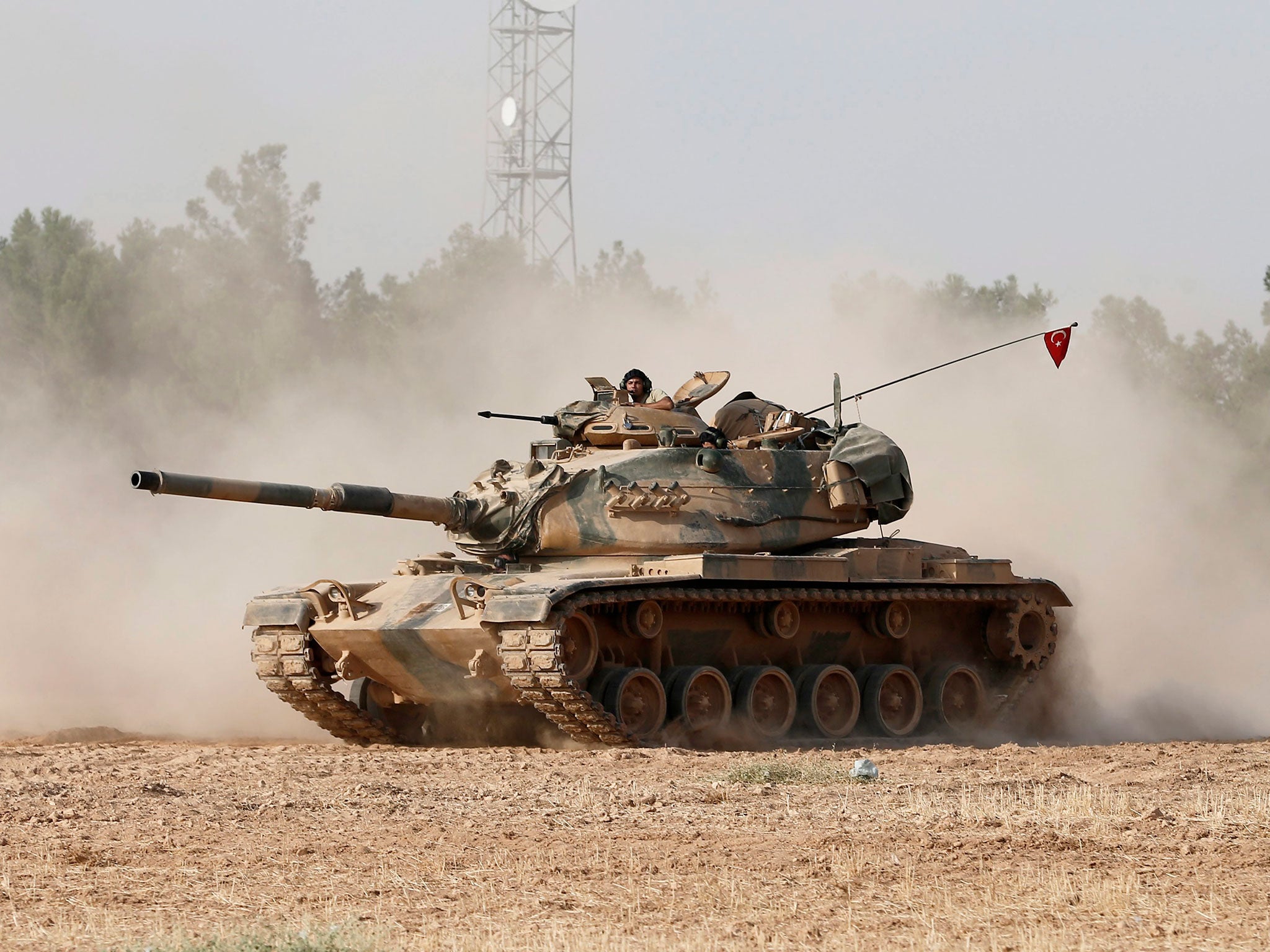 Turkey has transferred 20 tanks to the Syrian border
Turkey transferred 20 tanks to the Syrian border, and also raised 18 F-16 fighters into the air. Whether this maneuver is connected with yesterday's incident with the downed Russian bomber Su-24, the military did not specify.
The Turkish General Staff conducted one of the largest recent operations to patrol the border with Syria. The operation involved 18 F-16 fighters simultaneously. At the same time, which sections of the border were monitored, the Turkish military did not report, reports TASS.
Earlier, Anadolu, citing military sources, reported that Turkey had transferred an additional 20 tanks to Hatay Province on the border with Syria. "Twenty tanks stationed in the western provinces of Turkey were transferred by rail to Gaziantep in the south of the country, from where they were escorted to the Syrian border, accompanied by police and gendarmerie," the report said.
According to Russian politician Vladimir Zhirinovsky,It is beneficial for Turkey to seize Syria because of the large number of oil fields and territories, and Turkish President Recep Tayyip Erdogan wants to become a sultan and restore influence on the former colonies of the Ottoman Empire.
"It is beneficial for the Turks to seize Syria, because the states are not there, and they are striving to get a tidbit just like that. They constantly violate the border with Syria, they get smuggled oil from the militants," the LDPR leader told LifeNews.
According to Zhirinovsky, Turkey "plays on all fronts." "If he is trying to play with everyone, he will lose," he said, noting that the Turks "always hated us, this is also in the history books."
The politician noted that in connection with the Russian Su-24 bomber shot down by the Turkish Air Force, a tough reaction towards Turkey is needed. In particular, Russia may close the tourist flow and stop the supply of fuel through the Blue Stream gas pipeline.
Vladimir Zhirinovsky reminds that Russian President Vladimir Putin "has his hands free." "He has permission from the Federation Council to use armed forces anywhere in the world," he explained.
LDPR leader believes that the operation of Russia in Syria is not beneficial for Turkey, and the incident with the Su-24 may be an attempt by the Turkish authorities to force the Russian military to leave the region.
In his opinion, Moscow can support the Kurds, who are in conflict with the Turks, the radio station "Moscow Says".
Related news