Sports with a dog - choosing the right toy
The game is an integral part of the dog's sporting life. "Why exactly the game?" - you ask. Yes, because only gaming motivation gives so much drive, speed and desire to work.
A sport with a dog is impossible if it is not motivated, if it does not want to do anything for the desired object. You are very lucky if your pet is ready for anything for the coveted ball or cord. But what to do if the dog is not a "game"? What is the basis of the game? First of all, the game is hunting, and it is the hunting instinct that gives the highest level of drive in sport with a dog.

Why is the dog not playing? There can be several reasons: the poor state of health of the animal, fatigue, improper toy, lack of instinct (which is very rare).

With a bad state of health, there is only one option - to go to the veterinarian: it is not worth self-treatment. Fatigue (not only physical, but also psychological), of course, is solved by rest. For some time you will have to leave your pupil alone, but if fatigue is psychological, then maybeyou just need to give the dog to participate in "dog chatikah", as we described earlier. But with an unsuitable toy we will understand in more detail.
Here everything is purely individual. It is necessary to observe, observe and once again observe his four-legged friend, and he will tell you what he needs. As a rule, toys that are sold in pet stores - just a marketing ploy, they are not adapted to work with animals. But there are exceptions: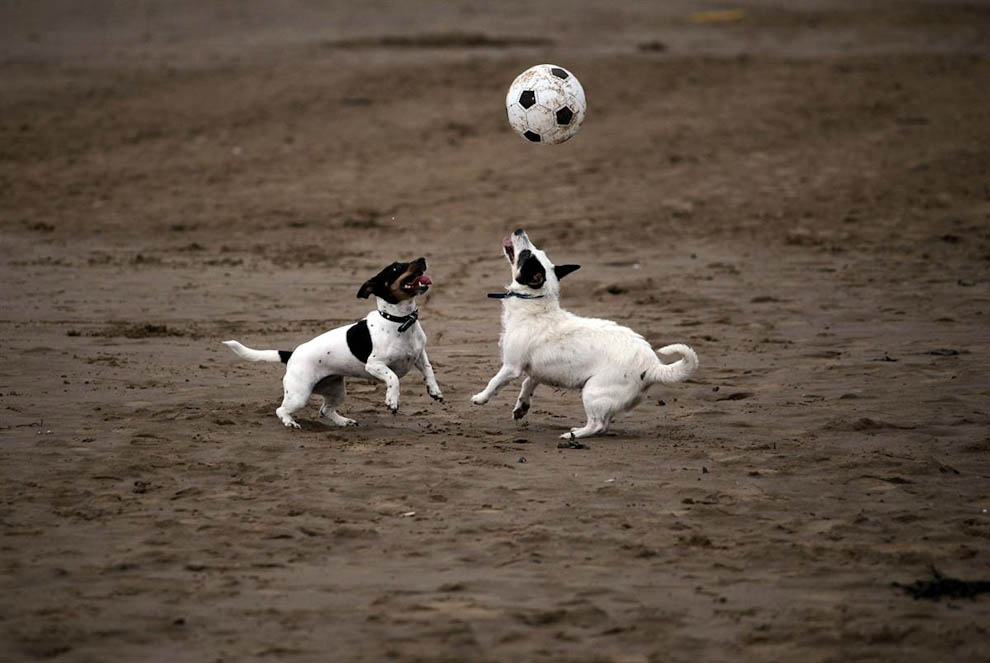 Rings "Puller" - a great tool for practice. Their only drawback is that they are not very suitable for modest dogs with a gentle mouth. For such representatives, they seem too hard.

The funicles are also good, but the minus is the same - they are too small.

The grips are convenient for courageous dogs with a trained mouth, for the rest they are very hard.

Balls - not all of them are convenient for the dog, you need to choose depending

on the size and density of the surface.
If your dog is modest and shy, then most likely he will refuse the above options (except for the ball, perhaps). Need to look for other games. For example, fleece cords, which you can do with your own hands.Guides on their weaving now a great many. You only need a small piece of fleece, which can be purchased at any fabric store. But such a toy will be pleasant for the mouth of your pupil and will not cause him discomfort during classes.

You can also make your grip, which will not be tough, like a store, and will bring your dog only joy. As starting materials you can take a soft cloth and, for example, a synthetic winterizer as a padding.

Sport with a dog requires her not only to physically give one hundred percent, but also emotionally: it is interesting for her to engage in sports, and to get a reward for her work. Therefore, the form of serving the game is no less important than the toy itself. For example, instead of poking any object in the face of a dog, you can arrange her the game "Fishing Rod". A split stick at the end, a rope and the toy itself - this is your fishing rod, try to catch your "fish" - and the lesson from boring will turn into interesting, and you will become a true friend to your dog.
But what to do if no toys, persuasion, "dancing" and other "circus performances" do not attract your dog? There is another option: almost any dog ​​will play with food. So, you should try to teach the game as a team.First, we throw pieces of treats in different directions, then gradually we include a toy in this process, encouraging zeal for it, and then the dog will develop a steady reflex - it will play.
And the main thing: sport with a dog is not a way to assert oneself and earn credibility, this is communication with your best friend, joint pleasant pastime, so watch if your ward is comfortable when you demand something from him or something needs to be changed. Both man and dog must receive pleasure!

Gestiya
Take it to yourself, tell your friends!
Read also on our website:
Dog healers
Genetically from birth, each of us has the ability to feel, and we are also endowed with the ability to love nature and animals. Of course, there are cases when personal negative experience blocks this quality, but if this did not happen, then from one type of dog on a person's soul it becomes warm and good.
Sport with a dog
Sport with a dog. How many-sided and interesting at times our pets. We appreciate them not only for their dedication, love and affection, but also for how interesting we can spend time with them.Take a puppy, teach a couple of teams, and then what? Not many owners now imagine where to go with their pet, and in fact the world of sports and leisure with animals is very diverse.
Related news
Sports with a dog - choosing the right toy
Sports with a dog - choosing the right toy
Sports with a dog - choosing the right toy
Sports with a dog - choosing the right toy
Sports with a dog - choosing the right toy