Curious facts about firearms
COLT, MODEL 1851 NAVY REVOLVER, FACTORY ENGRAVED AND GOLD & SILVER WASHED.
Today there is a lot of controversy surrounding weapons. Thousands of people die each year as a result of gunshot wounds, so it is not surprising that many oppose weapons. However, today it is not at all about whether this is good or bad, but about curious facts related to various models of firearms.
1. The history of firearms
Many people know that weapons have changed a lot over the centuries, but few people think about how long they exist. Some of the earliest records on the use of firearms date back to the XIII and XIV centuries. By the 1400s, shotguns with wick locks appeared. It was an important development, because before that the weapon was very difficult to use. Before the appearance of a gun with a wick lock, it was necessary to manually bring the burning wick to the shelf with gunpowder. A wick lock allowed the rifle to be held with both hands during firing, which had a very positive effect on aiming.
2Weapon owners benefit nature
Usually, gun owners are never associated with ecology. In fact, they largely contribute to environmental protection when they buy weapons and ammunition. For example, since 1937, it was the owners of weapons in the United States "allocated" more than $ 4 billion to save wildlife. This money was spent on saving wildlife, preserving forests, reserves and parks. What is the catch. And everything is simple - in the United States for the sale of all weapons and ammunition a tax of 10-11 percent is set, which goes to the preservation of wildlife.
3. Russian and trunks
Today it is no secret to anyone that the Russians actually took their pistols into space. These pistols, called TP-82, were produced between 1986 and 2007 and were designed to enable astronauts to defend themselves from bears (in case the landing module falls somewhere in the taiga). Also, the Soviet Union has developed a gun like Gatling - GSh-6-30, designed for installation on aircraft. Unfortunately, the vibration of the gun could damage the aircraft. Three prototypes made an unsuccessful landing due to jamming of the landing gear struts caused by the vibration of Gsh-6-30.
4. Revolver with camera
Over the years, many changes have been made to guns and pistols.In 1938, a very interesting innovation appeared in the form of a revolver combined with a camera (Colt .38 special with a camera attached to it). Whenever the owner pulled the revolver's trigger, the camera took a picture. As it is easy to imagine, it had a somewhat eerie potential. The good news is that even if the revolver was not charged, the camera could still take pictures (however, no different from the pictures of an ordinary camera). But this is really a crazy invention.
5. Picasso
Pablo Picasso - one of the most famous and outrageous artists of the twentieth century. Less well known is what he did at his leisure. Picasso had a revolver, which he usually charged with blank cartridges. If someone asked Picasso about what was painted in his paintings, started a speech about his theories on aesthetics or insulted Paul Cezanne's memory, then the artist "shot" this man. Today it is already known that the gun was loaded with idle, but at that time it was obviously not funny to people.
6. Strange laws
Everyone knows that there are many strange laws all over the world. Weapon laws are no exception.The first strange law to be considered today was passed in Arizona. In this state it is quite legal to carry a pistol, but it is not allowed to own nunchucks. Another weird weapon law was passed in Kennesaw, Georgia. He says that every head of the family in the city must have a gun. However, there are some exceptions to this rule, such as the impossibility of using weapons for religious reasons.
7. The biggest weapon
Firearms come in all shapes and sizes. There are pistols that are small enough to fit in a pocket, and there are implements that are so large that they are mounted on battleships. There is also a weapon that bears the title of "the largest caliber rifle used in combat in the history of artillery." It was the Schwerer Gustav ("Heavy Gustav") - a railway artillery gun built by the Nazis during World War II. It weighed 1350 tons and moved on the railway platform. 807-mm projectile weighing 4.8 (high-explosive) or 7 tons (concrete) could hit the target at a distance of 39 kilometers.
8. Keys pistols
In the 1850s, jailers in the United States received a special type of firearm that looked like a key.These pistol keys were actually used to lock cells in prisons, just like regular keys. But they had a secret - inside the "key" there was a barrel with 1 cartridge "in case of emergency". Ultimately, the release of such weapons was discontinued, because the guards had a much more useful and practical weapon.
9. Presidents and pistols
James Garfield, the 20th President of the United States, was shot with a pistol. But his killer did something very strange, choosing a firearm to kill the president: he bought a gun, which he thought would look good in a museum. The weapon eventually turned out to be in a museum. The following story about the president and the weapon has not so sad ending. American President Andrew Jackson was almost killed by a man who managed to get close to him with two pistols. However, it seems that luck was on the side of Jackson that day. When his potential killer, Richard Lawrence, pulled the trigger, the gun snapped. The second he did not have time to pull out of his pocket.
10. Zombie killer weapons
Finally, consider the funny weapons created in 2012. Gun Company Mossberg has released a line of firearms designed specifically to kill zombies. Of course, everyone believes that zombies are fiction, but you never know what will happen in the future.In fairness, it is worth noting that between these weapons and other firearms there is almost no difference, except for the special stamp "ZMB". But why change something that works so well.
Related news
Curious facts about firearms
Curious facts about firearms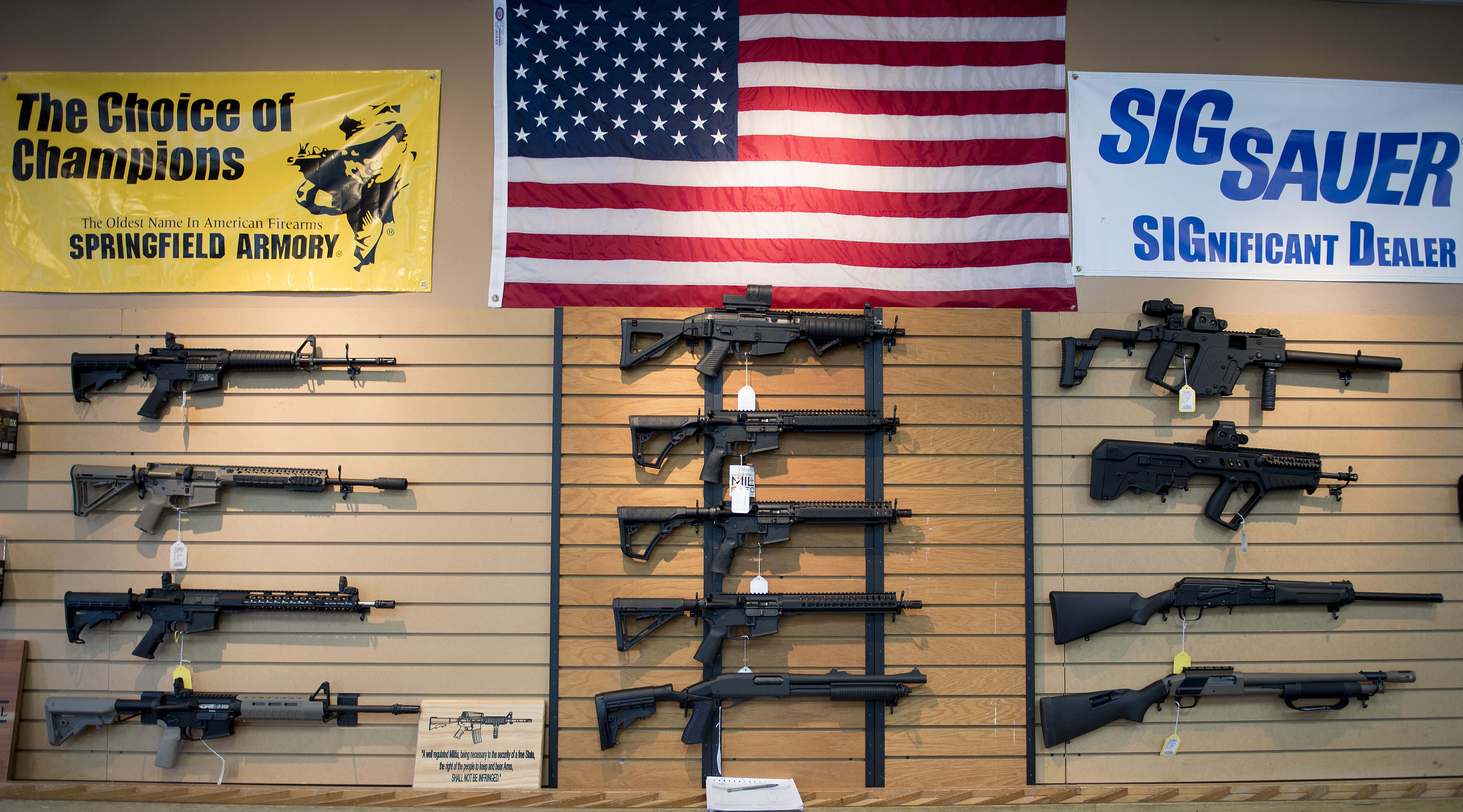 Curious facts about firearms
Curious facts about firearms
Curious facts about firearms