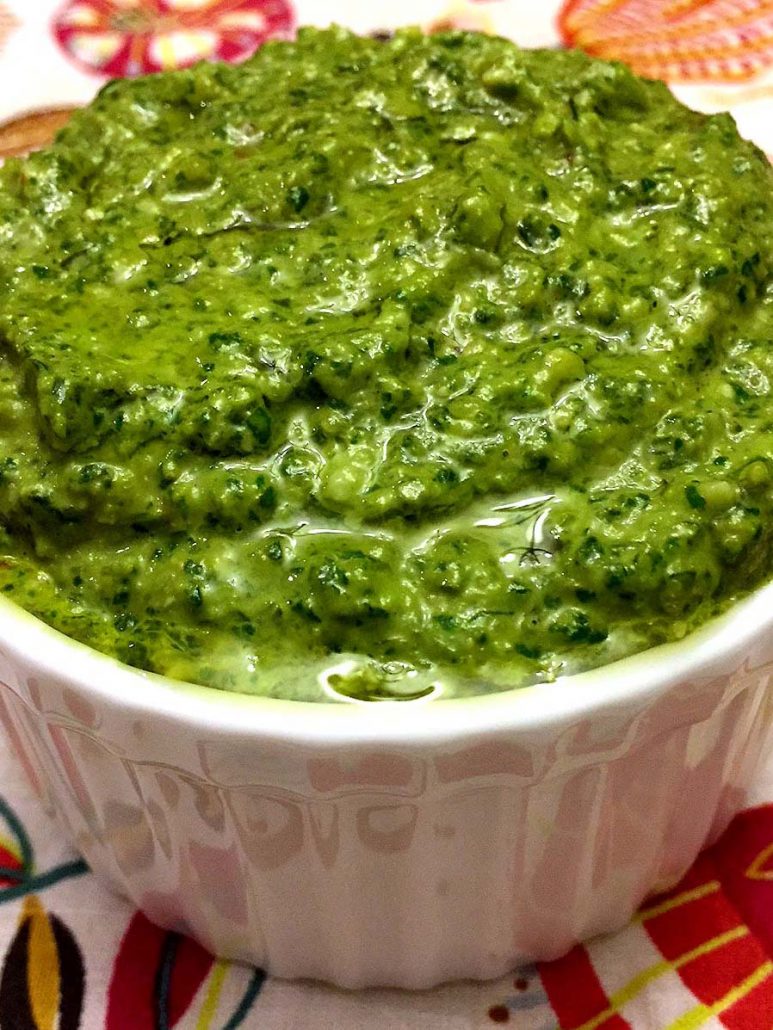 Cooking Italian Pesto Sauce at Home
For many of those who have visited sunny Italy at least once, the national cuisine of this country is associated not only with pizza. Pesto sauce is a popular dressing based on basil, olive oil and pine nuts, which for many Italians is synonymous with the approaching summer and relaxing at sea.
Why so? It's simple! Pesto Sauce was born in the region of Liguria, the city of Genoa. Yes, precisely in that city, from where Christopher Columbus went to search for China and India, and found America.
Contrary to many misconceptions, Pesto sauce is not a salad dressing. Most often Italians themselves use it to make pasta, less often lasagne, pizza, crackers. A salad with pesto sauce is quite a rare dish.
From the history
You can try real pesto sauce only in Liguria, where it is widely prepared and offered to tourists. In the basis of home-made pesto sauce contains basil, salt, pine nuts, garlic, olive oil and Pecorino Romano cheese.This dressing does not need to be boiled, stewed or fried, all ingredients are used fresh.
The first official mention of the dressing recipe refers to 1852, where the sauce is called "Garlic-Basil Pesto". Although many historians refer this dish to the Roman era.
In addition to the right ingredients, you should use the right utensils for cooking. The classic recipe provides for a marble mortar and wooden tolkushka. It is with these devices that the traditional Pesto sauce is prepared.
Italians themselves use a dressing for the first courses. Please note that in Italy, the first dishes include pasta, noodles, potato dumplings. In addition, pesto often complements the Genoese soup. Now consider some recipes and their composition.
Pasta linguine alla genovese
The traditional dish of Genoa can surely be called "Linguine alla genovese". To prepare this dish, you need special pasta, which is flat spaghetti and pesto sauce.
The recipe suggests the following composition:
pasta - based on 80-100 grams of dry product per person;
basil - 100 grams of small leaves;
extra virgin olive oil - 1 cup;
Parmesan cheese - 12 tablespoons;
Pecorino Romano cheese - 4 tablespoons;
garlic - 4 cloves;
pine nuts - 2 tablespoons;
coarse salt to taste.
First, prepare the pesto sauce. For this, it is advisable to use, as mentioned above, a marble mortar and wooden tolkushku. But if you do not have them, then a standard wooden mortar with a crush will do.
At the very beginning in a mortar, garlic is pounded with salt. When these two ingredients become creamy, you can add nuts. When the composition has become monotonous, basil is added.
After the basil, pre-scuffed cheeses are added and, at the very end, olive oil. This sequence is a rule that should be followed to get a classic recipe. When Pesto is ready, leave it to "rest" and get ready to make pasta.
Flat spaghetti boil in boiling water for as long as indicated on the package, but less by 1-1.5 minutes to make the dish "al dente", as the Italians say. In addition, use only pasta from durum wheat. When the pasta is ready, remove them from the water, but do not rinse.
Put the pasta in a container in which you will serve them, and in this container add the pesto sauce.Now you can mix dishes and entertain guests.
This pesto recipe can be used for other dishes. Follow the cooking technology, do not change the composition - and you can enjoy one of the most interesting sauces of Genoa.
Genoese soup
Another traditional dish of Liguria is Genoese soup, which involves the use of Pesto. Also require short pasta.
The recipe suggests the following composition:
green bean;
carrot;
zucchini;
potatoes;
peas;
beans;
beet;
tomatoes;
bow;
celery;
garlic;
short pasta;
1 cube for cooking broth;
pesto;
olive oil.
And now proceed to cooking the soup. First, wash and cut the vegetables. When the vegetables are prepared, in a deep frying pan in olive oil, fry the garlic, onion, and celery. After that, add vegetables, water and a cube of broth to the pan. Water needs to be added so much that it reaches the middle of the pan.
When the vegetables are almost ready, add the pasta and cook them for 1-2 minutes less than indicated on the package. The soup should be very thick, because in Italy it is just such a consistency.The sauce is added to the plates at the rate of one tablespoon per serving.
Using this simple recipe, you get a tasty and unusual dish - a traditional Italian soup.
Caprese Salad
In our country, the Caprese salad, which is refilled with Pesto, is very popular.
Below we take a look at his classic cooking recipe:
tomatoes - 6 medium stuff;
mozzarella cheese - 250 grams;
basil - 3-5 leaves;
pesto - for refueling.
The sauce recipe you can use the one that we quoted above. If you do not have pine nuts, then they can be replaced with walnuts. And now we proceed directly to the preparation of the salad itself. For this recipe provides for the preparation of tomatoes. Tomatoes should be washed and cut into circles 0.5-0.8 centimeters thick.
Mozzarella gets rid of the liquid and is cut too. A zebra salad is laid out on a plate: a slice of tomato, a slice of mozzarella, and then in a circle. On top of the salad is decorated with basil and a thin strip of Pesto. You can also decorate the salad with black olives.
Whatever recipe you choose from the above, the key to success is to follow the instructions for preparing the dish. Enjoy your meal!
Related news